Guangzhou Aluminum Structure Curve Shape Tent for Outdoor Exhibition
The curved top tent of Guang Ao has a novel shape, which is an arc formed by pre-bending the canopy oblique beam on the basis of the herringbone roof, thereby achieving a more beautiful effect. The arc-top tent is very special in appearance. It is like a rainbow house with a beautiful arc-shaped roof and a delicate arc-shaped line design.
The parts are interchangeable, and the arc top can be flexibly converted into an "A" shape top, and the roof can also be designed to extend the ethereal. The arc-top tents provided by Guang Ao are fully equipped with transparent tempered glass walls on the side walls of the tents, making the interior of the tents brighter and wider.
The design of the Guang Ao curved-top glass wall tent is sturdy and durable, which meets the standards of Europe and the United States in terms of stability, rain resistance and fire resistance. The wind speed resistance is up to 100 km/h (wind load 0.5 kN/m2), without any pillars in the middle, and the space can be applied 100%. The unique exterior of the Arc Roof is a well-designed tent in the popular market, giving us a more contemporary and flexible space. It is ideal space for high-end exhibitions, auto shows, touring, event parties, commercial shows, weddings, sports venues and many other outdoor/indoor venues. Moreover, the installation and disassembly of the arc-top tent is very simple, and the storage and transportation volume is small, which can be recycled.
The arc-top glass wall tents available in the Guang Ao can be spanned to 10m, 12m, 15m, 20m, 25m, 30m, 40m, and the length can be increased by 3m or 5m. We can also provide custom-made tents, which can provide suitable tents according to your activities and the interior decoration of the tent.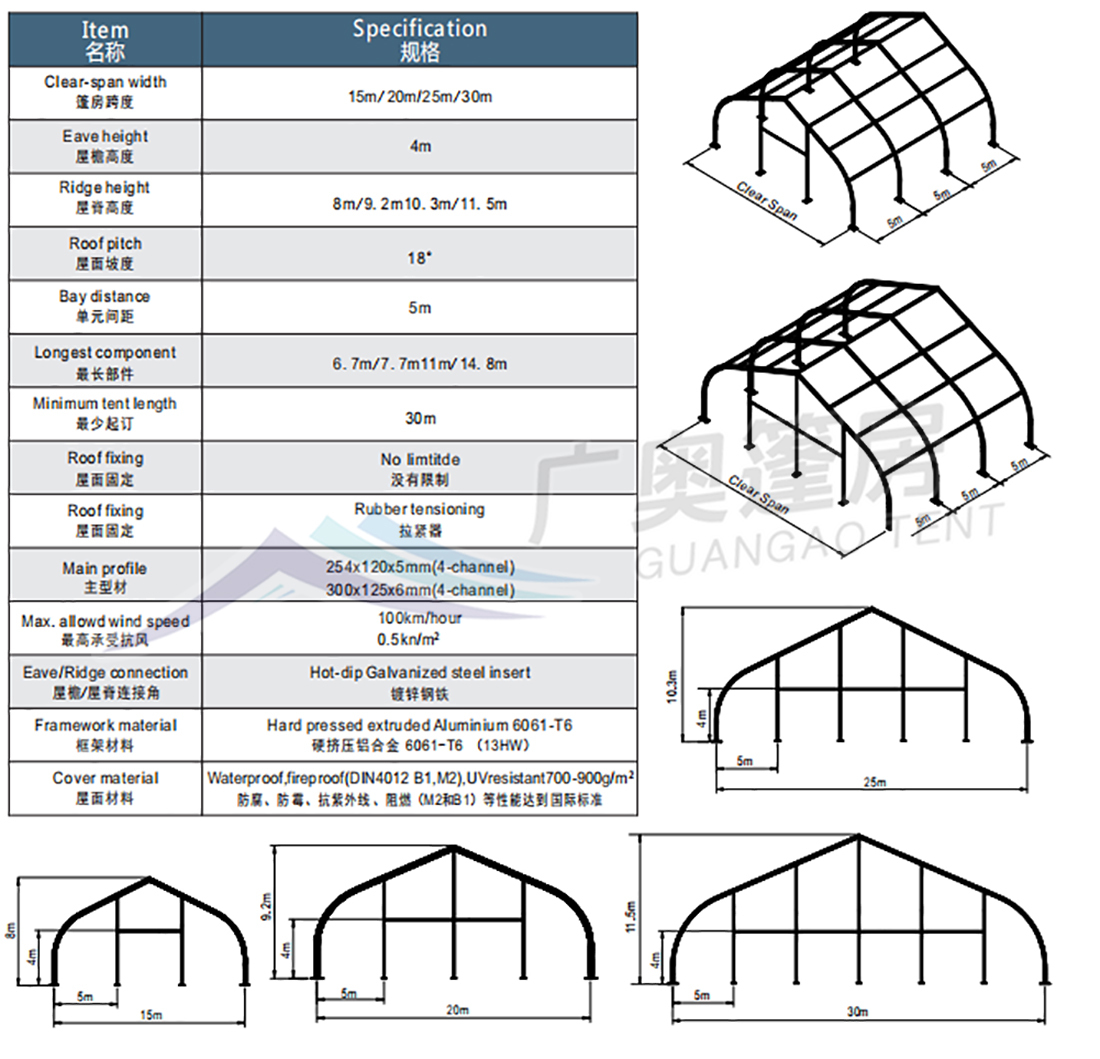 Parameters:

Item




Specification




Clear-span width




3m - 50m




Eave height




2.6m /3m/4m/5m/6m or customized




Ridge height




4.3 - 8m or customized




Bay distance




5m or customized




Frame material




Hard pressed extruded Aluminium 6061-T6




Cover material




Waterproof, fireproof(DIN4012 B1, M2), UV resistant




Eave/Ridge connection




| | |
| --- | --- |
| | Hot-dip Galvanized steel insert |

84x48x3mm, 122x68x3mm, 166x88x3mm, 203x112x4mm,204x112x4.5mm, 256x120x5mm, 300x125x5mm,300x125x5mm, or customized




Max.allowed wind speed




100km/hour, 0.5kn/m³ or can be customized




Fixing accessories:
General ways for fixing tent on ground, ① free, ② and ③ need extra pay.
① Expansion bolts: When tent fixed on hard ground which is allowed to drill holes,such as cement or tarmac ground,etc. This accessories in including, for free.
② Ground anchor: When tent fixed use on the loosen ground,such as the sand and grass,etc.
③ Steel weight plate: When tent fixed on the place which can't be damaged, such as marble or tile ground.
④ Embeded screw: When tent will be used in one same place permanently.

Optional Accessories: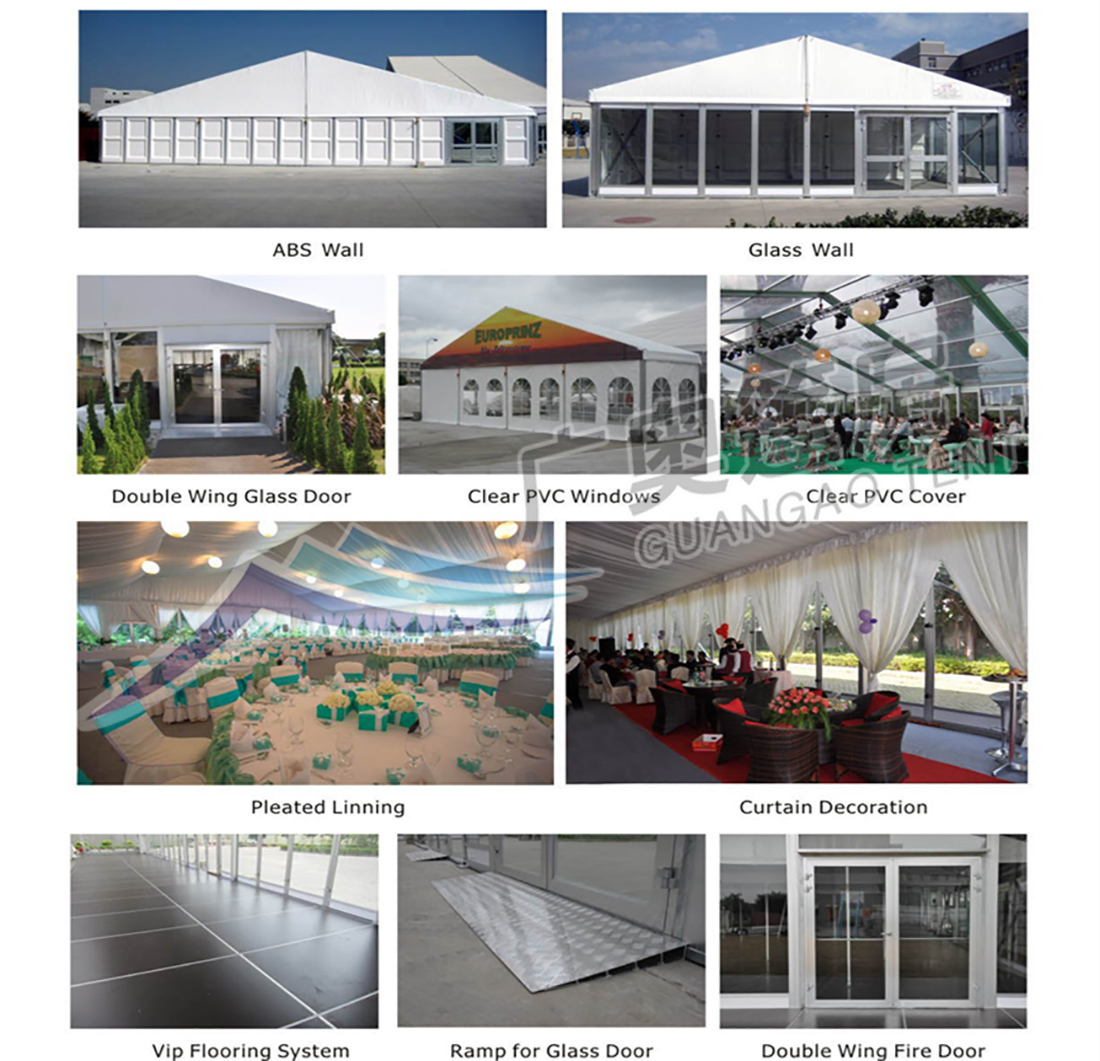 Your cart is currently empty.