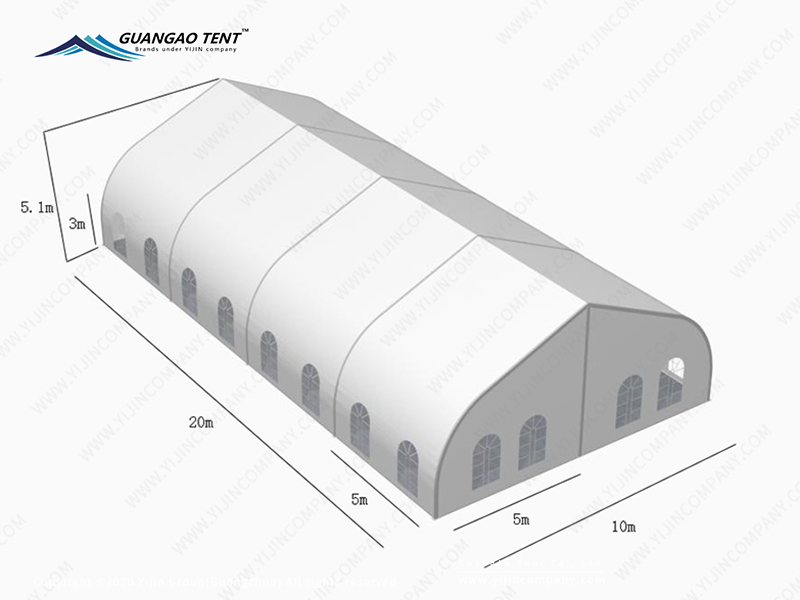 Peach-shaped Party Tent Made and Designed by Guang Ao
Tuesday, 05 January 2021

0

143

0
On January 5, 2021, according to customer requirements, Guang Ao built a customized peach-shaped tent in its own production park, and through online video to let customers confirm product quality.

The size of the curved tent is 20*10*5.1m that can accommodate about 1,000 people, covered with white PVC membrane cloth. It is a medium-sized tent. It is mainly used by customers to undertake year-end events, such as company annual meetings, organization parties, and wedding banquets for friends etc.

Many people think that peach-shaped tents are only suitable for hangars. In our previous custom cases, most customers did buy back to make private jet parking space. This is because the peach-shaped content is compatible with aircraft and the upper end is high. , The wings are wide and long on both sides, and the peach-shaped hangar will not waste a lot of space. Our customized tent belongs to a spatial structure. No matter what the shape design is, you can buy it and use it for any purpose as long as you like it. The peach-shaped tent can be used as a hangar, can also be used in party events, and even in exhibitions or factory.
Guangzhou Guang Ao Tent Industry Co., Ltd., introducing advanced German tent technology, is an industrial and trade enterprise integrating R&D, design, production, sales and leasing. It has more than 20 years of experience in tent technology, optimizing materials, and focusing on Details, improve production efficiency, and always put product quality and customer service first.

Your cart is currently empty.