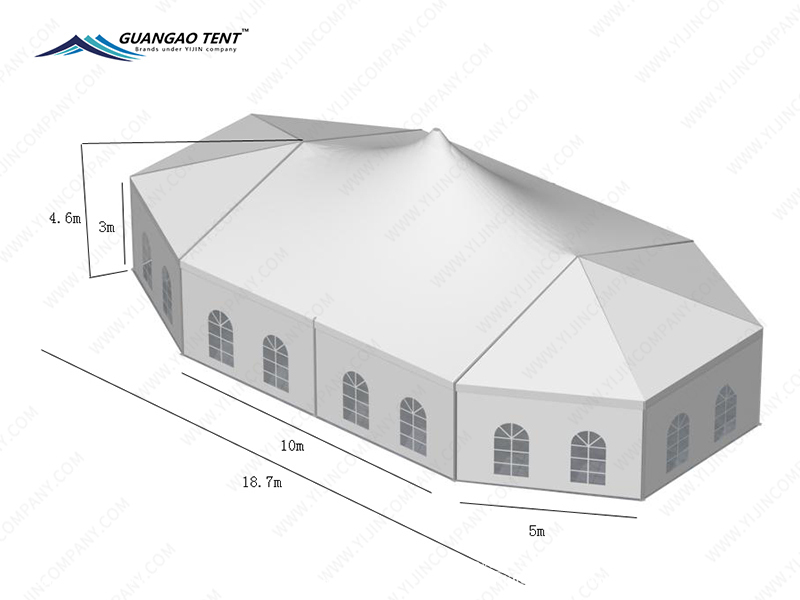 High Peak Mixed Wedding Party tent from Guang Ao
Tuesday, 05 January 2021

0

141

0
On December 31, 2020, Guang Ao built a high peak tent customized by foreign customers in its factory park.
The size of the mixed tent is 18.7*4.6*3m that can accommodate 250~300 people, which is a small customized tent. Our customer told us that he wanted to use it for his wedding party at the end of the year. After clarifying the customer's ideas and needs, our designers intuitively expressed the customer's ideas through the drawings. After confirming the design drawings, the factory produces them. Ideas become reality.
High peak mixed shape tents belong to unconventional tents. They have high requirements in design ability, manufacturing ability (aluminum alloy cutting and film cloth cutting), trial construction ability, instructing customer installation ability, after-sales ability, etc., small and inexperienced factory cannot complete such design and manufacturing. Guang Ao has more than 20 years of experience in the tent customization industry. We has rich tent shapes, complete specifications and sophisticated equipment. We can adjust the structure of the tent according to your preferences. In addition, if you need it, we can have a full set of tent facilities to meet your requirements and facilitate your one-stop purchase.
At the end of the year, weddings and parties around the world are very popular. Star-rated hotels are not only expensive, but also not Innovation. Think about laying an eye-catching tent on a green grass and enjoying the party activities inside.

Your cart is currently empty.